Web Development
Looking for a web development partner that can help you with all of your website needs? Your support subscription includes access to our team of experienced web developers.
How We Can Help
Your support team will make it easy for you to enhance and expand your web presence.
Website Maintenance
Keeping a site running smoothly can be complicated and time-consuming. Let our experts handle your website maintenance so that you can worry about bigger things. Our team can update themes, plugins and more, all the while making sure your site stays secure.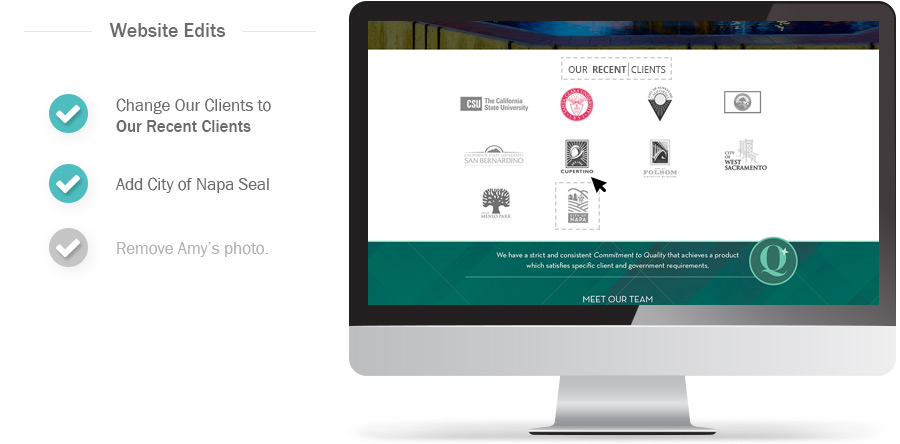 Website Updates
Looking to improve your website, add pages, enhance load times or fix bugs? Your support team can help you with a wide variety of website updates – taking your website from meh to awesome.
Blog Posts
A well-maintained blog can provide your customers with valuable info and keep visitors coming back for more. Our support staff can help by creating unique and eye-catching graphics, developing post templates and adding individual posts to the blog.
Email Templates
Email marketing is a great way to increase sales and engage your existing customer base. We can design and develop beautiful, custom emails that work within your chosen email platform including MailChimp, Constant Contact, Campaign Monitor and more.
eCommerce Management
Have an online store that needs new products, additional pages or add a new sale? No problem, your support team features eCommerce experts that can help you improve your website and boost your store's performance. Our team supports a variety of platforms including WooCommerce, Shopify, Squarespace and more.
Landing Pages
Landing pages or squeeze pages are useful tools for marketers and businesses alike. Our talented designers and developers can create effective landing pages helping you convert your leads into sales.
Coming Soon Pages
When you are looking to establish your online presence, but aren't ready for a full website a coming soon page is a great place to get started. Our team can assist you in quickly launching your coming soon page giving prespecitve clients a way to get in touch.
New Websites
Looking to create a new website from scratch? No problem, your support team gives you access to quality designers, web developers and project managers that will walk you through a simple process to creating your new site.
What They're Saying
Customer Testimonials
Excellent service from talented professionals.
Great service, with fast turnaround, and quality execution!
Get Started
Flexible and affordable packages for every budget.
Support+ Free
0 Support Credits

0 Free Credits

4 Credits Task Minimum (1 hour)

Graphic Support $18.75/Credit ($75/hour)

Web Support $25/Credit ($100/hour)

Rollover Credits
Support+ Gold
80 Support Credits (20 hours)

8 Free Credits (2 hours)

4 Credits Task Minimum (1 hour)

$12.50 / Additional Credit ($50/hour)

Rollover Credits
F.A.Q.
Frequently Asked Questions
Q: What are support credits?
A: Support credits are used to access support services. Each credit represents 15 minutes of support time. Each Support Request requires a minimum of 4 credits, and then 1 credit intervals thereafter.
Q: What are the cancellation terms?
A: There are no contracts or cancellation fees. You may cancel at any time, and the cancellation will be effective the next billing period.
Q: How long is the task minimum?
A: The task minimum is 16 credits for Support+ Free, and 4 credits for Support+ Silver and Gold.
Q: What happens to unused support credits?
A: Unused support credits will expire at the end of your support period.
Let's Chat
Not sure which package is right for you or have other questions? Our team is ready to help.